---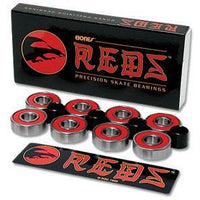 1 Pack / 8 Bearings.
Bones REDS skate bearings are some of the best popularly priced bearings on the market. REDS were developed to be an affordable alternative to Bones Swiss. They feature ground and super finished chromium steel balls and races, a high speed, removable nylon ball retainer, Bones Speed Cream lubricant and a removable, non-contact, frictionless red rubber shield.
This combination of Skate Rated design, quality components and careful quality control makes them faster, smoother and longer lasting than any other skateboard bearing in their price range, so let the good times roll with Bones REDS.